The Lost Boys of Pickering (Historic)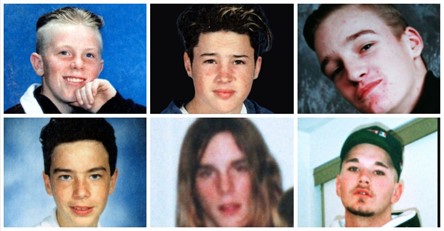 On Saturday, March 18, 1995 the following six young men were reported missing. Jay Boyle, age 17; Chad Smith, age 18; Michael Cummins, age 17; Robert Rumbold, age 17; Jamie Lefebvre, age 17 and Daniel Higgins, age 17.
The teens were last seen together at a party in Pickering Friday March 17th, 1995.

Three of them were observed on video surveillance heading towards the Frenchman's Bay Marina that night and it is believed the six young men boarded a boat that subsequently capsized in Lake Ontario.

The boys are still considered missing, and the case remains unsolved.

The boys pictured from left to right, Daniel Higgins, Chad Smith, Robert Rumbold, Michael Cummins, Jamie Lefebvre and Jay Boyle.

Contact Information:
Contact Information:
Anyone with any information that might assist investigators is asked to contact the DRPS at 1-888-579-1520, ext. 2511.